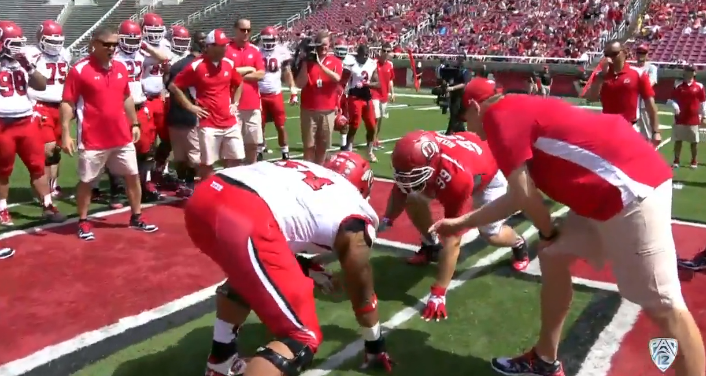 Isaac Asiata (#54) and Daniel Nielson (#99) prepare for the "circle drill" to determine possession for Utah's Red and White Spring Game (which is an awesome way to start a game)
Yes the spring game, for the most part, doesn't tell us as fans much about how the upcoming season will go. It's a glorified scrimmage, and one in which the offense is set up to shine, and many of the guys who will be making the plays on Saturdays sit out. That being said, there are some good, bad, and meh takeaways from this game that we could see this next season play out.
*NOTE* I didn't get my hands on a roster, so most of the stuff I noticed were guys I already knew about, and knew their numbers. Some of the guys I heard over the PA as well.
The GOOD:
1. QB depth. Travis Wilson is back on the field, Schulz showed some improvement since last year with some very nice throws to Hatfield, Manning finally got to show what he could do with some PT, and Brandon Cox showed off his escapability and open field throwing. Micah Thomas moved to WR, and Jason Thompson, a Wyoming transfer, played some safety and some QB but is ineligible due to NCAA transfer rules. Manning showed good poise in the pocket, and threw an absolute dime to Westlee Tonga.
2. RB depth. Lucky Radley did not play today, but we know what he can do. We also know what Bubba Poole can do, and he had a decent day, plus a fantastic run after catching a pass from Cox. The two guys who impressed me the most were Devontae Booker and Troy McCormick. Booker is a downfield, power runner who finished the day with 103 yards and 2 TDs on 19 carries. He SERIOUSLY impressed me, as I think that kind of stat line is something the Utes have needed since John White left. McCormick finished with 34 yards and 1 TD on 8 carries, but showed great vision and very impressive receiving skills, finishing with 67 receiving yards on 4 catches. Freshman Dre'vian Young also had some impressive runs.
3. WR depth (you can see a trend here). With Dres and K. Scott sitting out, Domonique Hatfield had himself a day, finishing with 93 yards and a TD on 4 catches. Geoffrey Norwood also had a solid day, making a few good catches. Brian Allen definitely made the most of his one catch of the day, taking a short pass 56 yards for a score, breaking ankles along the way.
4. Defensive adjustments. After a slow start in the 1st half, hindered by the fact that they could only play base defense, the defense started to make bigger and bigger plays in the 2nd. The hits got harder, the D-Line upped the penetration, and the linebacker play improved greatly, highlighted by two Cox interceptions made by linebackers Velasquez and Mokofisi, who pulled in the pick off a huge hit by Chandler Johnson.
5. Seeing Moana Ofahengaue on the sideline. Great to see him healthy and out of the hospital.
The BAD:
1. Offensive line play. We've gotten used to this, which is an AWFUL thing. This needs to improve NOW. The D-Line was getting too much penetration, and there were more sacks and pressure than I would have liked. I will give the O-Line a small break based on the fact that they were mixed up, playing next to guys they may not have alot of experience with, and guys like Junior Salt and Jeremiah Poutasi sitting out. One guy that seemed to get some negativity was freshman Jackson Barton, who got beat multiple times around the end at LT. But he's a freshman and has alot of time to improve.
2.. Defensive start. Chalk it up to about 80% (according to Whitt) of the defensive starters not playing today, but the defense had an awful start. The offense was moving the ball at will, and as Brian Swinney from Scout put it so wel on Twitter "Utah defense really struggling. Tyler Shreve could lead a TD drive in this game." When that is said about you, it's bad.
3. Tackling. Poor, POOR tackling. 'Nuff said.
4.. The absence of major players. HATE seeing guys like Gionni Paul and Jacoby Hale on crutches. We do get Paul back but i was really looking forward to seeing him in action on the field. Then not being able to see how K. Scott is coming along from his injury. Dres is always fun to watch too. I really wanted to see Blechen's play, as well as Tevin Carter and Eric Rowe moving to corner.
The MEH:
1. TE play. Out goes Jake Murphy, in comes tight end by committee. Westlee Tonga, Siale Fakailoatonga, and Harrison Handley all played solid, making the catches where they could. But as we've seen, traditional TEs are not really used in the offense at Utah.
2. Andy Phillips. I almost put him in The BAD with the missed field goal, but found out that he had a 103 degree fever. We know Andy can make that field goal, but being sick hampers that. So, meh.
My Final Thoughts:
1. The QB position is Travis' to lose. Manning showed good flashes, but he did miss some pretty easy throws. Schulz showed improvement but as far as we saw last year, I don't trust him. Travis, although he did look shaky and nervous at times, and also had the worse of the two receiving corps, had the best statistical game of the 5 QBs that played.
2. In my mind, Devontae Booker will be the starting running back this next year. He showed quickness, vision, and ran north/south with his shoulders down. He runs with tenacity, power, and like he has something to prove. He has the makings of a 20+ carries, 100+ yards a game back, something that will greatly benefit the team, and especially take some pressure off of Travis. My only concern was that he looked tired towards the end of the game, but that can be fixed before the year starts. Poole and Radley also need to look out for McCormick, or they could both be regulated to garbage time minutes.
3. I loved the intensity both sides showed. This came close to feeling like a real game, and the players sure seemed happy to get out there and play some real full contact football. The circle drill idea was amazing, and I wish the NCAA replaced the coin toss with it.
4. Without the major players on the field, it's tough to get a good idea of how this year is going to play out. The spring game will always show the team in a positive light, and is set up for each side to succeed at certain points of the game. That said, this got me very excited for the team this year. Looking at it today, I believe that if the O-Line can step up and play well, this team can get to 8 wins (which is my optimistic prediction in my other fanpost). It does give a great chance for the younger, lesser known guys to show us what the future holds, as well as the depth we have at each position.
Can it be August yet?